AceHTML Pro
Version: 5

License(s): Shareware, Commercial

Price: $49.99

Platform(s): Windows

More Reviews: See more reviews





| | |
| --- | --- |
| Rating: | |
AceHTML Pro Description
This HTML editor can be used to write PHP, here is there speal:

Discover Visicom Media's AceHTML 5 Pro, the latest version of Visicom's award-winning Web development tool. AceHTML 5 Pro is the high-performance solution for creating and managing Web sites with a maximum of productivity and efficiency. With its wide array of tools, AceHTML 5 Pro meets the exacting needs of Web builders who want freedom and complete control over their Web site.

Key Features:
New XHTML Standard
Link Validator
Code Optimizer
Code Inspector
Code Explorer
Style Sheet Editor
Syntax Checker for HTML, JavaScript and CSS
Predefined scripts
Advanced Interface Customization


AceHTML Pro Screenshot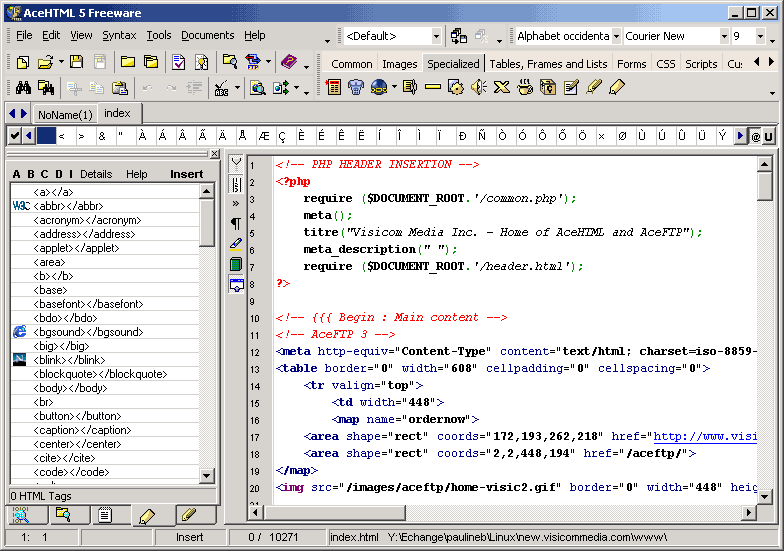 full size
Featured PHP Editor Review


NuSphere PhpED 5.5: The Staff of php-editors.com recently spent a few days working with NuSphere PhpED 5.5 (a popular PHP IDE) and 2.0 (a PHP Encoding Utility), read up on all the details.


AceHTML Pro Comments


A good alround web page creation tool designed mainly for HTML.

Visit the AceHTML Pro Website.


AceHTML Pro Users Comments/Reviews