Main Menu

Forums

Programming Contest

Documentation

Sponsors

ActiveState Komodo
Version: 3.5

License(s): Commercial, Other

Price: Komodo Pro: $295 USD, Komodo Personal: $29.95

Platform(s): Windows, Unix, Linux, Other

More Reviews: See more reviews





| | |
| --- | --- |
| Rating: | |
ActiveState Komodo Description
The Killer IDE for PHP

ActiveState Komodo is the award-winning IDE for dynamic languages, providing a powerful workspace for editing, debugging and testing your programs. Komodo offers advanced support for Perl, PHP, Python, Ruby, and Tcl, and runs on Linux, Mac OS X, Solaris, and Windows.

Features:
Cross-platform support, language-aware editor, graphical debugger, source code control, ActiveState GUI builder, project manager, toolbox, code and object browsers, AutoComplete
and CallTips, Rx (regular expression) Toolkit, macros and triggers, "Run" command, highly
extensible, templates, programmer resources and more.



ActiveState Komodo Screenshot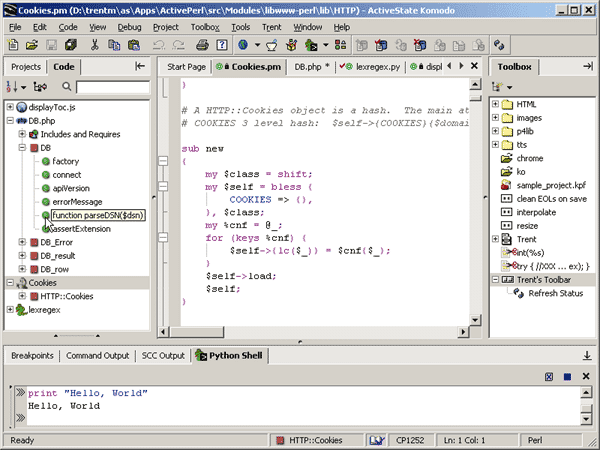 full size
Featured PHP Editor Review


NuSphere PhpED 5.5: The Staff of php-editors.com recently spent a few days working with NuSphere PhpED 5.5 (a popular PHP IDE) and 2.0 (a PHP Encoding Utility), read up on all the details.


ActiveState Komodo Comments


Great Multi-Platform, Multi-Language IDE. Ideal for those who dabble in other languages like Perl and Python. We strongly recommend a test of the evaluation version.

Visit the ActiveState Komodo Website.


ActiveState Komodo Users Comments/Reviews