Arisesoft Winsyntax
Version: 2

License(s): Freeware

Price: n/a

Platform(s): Windows

More Reviews: See more reviews





| | |
| --- | --- |
| Rating: | |
Arisesoft Winsyntax Description
Here's there speal:
Arisesoft Winsyntax - is the small PHP-code editor, with the fast syntax highlighting engine and the context help for any PHP keywords for comfortable coding.


Arisesoft Winsyntax Screenshot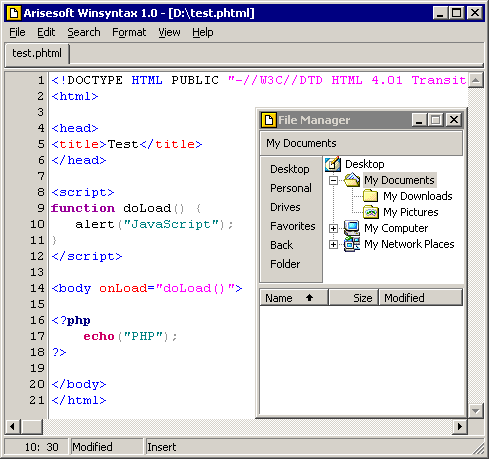 full size
Featured PHP Editor Review


NuSphere PhpED 5.5: The Staff of php-editors.com recently spent a few days working with NuSphere PhpED 5.5 (a popular PHP IDE) and 2.0 (a PHP Encoding Utility), read up on all the details.


Arisesoft Winsyntax Comments


Well it does have more features than notepad anyway, and its free. You will not find all the modern features that most other Editors have though, but what do you expect for a 453Kb prog !!

Visit the Arisesoft Winsyntax Website.


Arisesoft Winsyntax Users Comments/Reviews