BBedit
Version: 7.0

License(s): Commercial

Price: $179

Platform(s): Mac

More Reviews: See more reviews





| | |
| --- | --- |
| Rating: | |
BBedit Description
I haven't got a mac so i havn't personaly tested this one. Here is what they say about it:
'Whenever you need to work with text, whether you want to create or maintain a Web site, write a program or shell script, search log files and extract data, or write a few paragraphs (or pages, or books), BBEdit offers many features which will make your task quicker and easier.'


BBedit Screenshot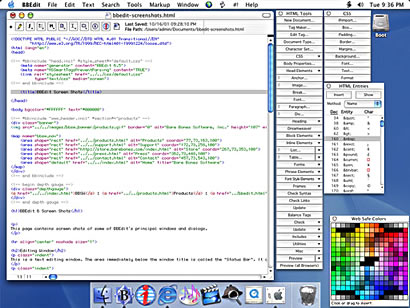 full size
Featured PHP Editor Review


NuSphere PhpED 5.5: The Staff of php-editors.com recently spent a few days working with NuSphere PhpED 5.5 (a popular PHP IDE) and 2.0 (a PHP Encoding Utility), read up on all the details.


BBedit Comments


I have heard this is one of the best ones for the Mac.
I have given it 3/5, please add you opinions so i get a better idea.

Visit the BBedit Website.


BBedit Users Comments/Reviews