Dev-PHP
Version: 3.0

License(s): Freeware

Price:

Platform(s): Windows

More Reviews: See more reviews





| | |
| --- | --- |
| Rating: | |
Dev-PHP Description
Dev-PHP is a full-featured integrated development environment (IDE), which is able to create scripts and applications using the PHP scripting language and the PHP-GTK library (both included in the "PHP Package").
Dev-PHP is free software under the GNU General Public License, which means you can freely modify or use the source code under the terms of the license.


Dev-PHP Screenshot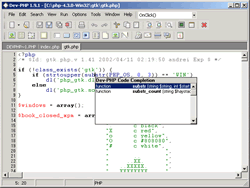 full size
Featured PHP Editor Review


NuSphere PhpED 5.5: The Staff of php-editors.com recently spent a few days working with NuSphere PhpED 5.5 (a popular PHP IDE) and 2.0 (a PHP Encoding Utility), read up on all the details.


Dev-PHP Comments


I look forward to some user feedback on this. The rating may change when more feedback is available.

Visit the Dev-PHP Website.


Dev-PHP Users Comments/Reviews