Main Menu

Forums

Programming Contest

Documentation

Sponsors

Edit Plus
Version: 2.11 SR-2

License(s): Shareware, Commercial

Price: $30

Platform(s): Windows

More Reviews: See more reviews





| | |
| --- | --- |
| Rating: | |
Edit Plus Description
EditPlus is an Internet-ready 32-bit Text editor, HTML editor and Programmer's editor for Windows. While it can serve as a good replacement for Notepad, it also offers many powerful features for Web page authors and programmers. Syntax highlighting for HTML, CSS, PHP, ASP, Perl, C/C++, Java, JavaScript and VBScript. Seamless Web browser for previewing HTML pages, and FTP commands for uploading local files to FTP server. Other features include HTML toolbar, user tools, line number, ruler, URL highlighting, auto-completion, cliptext, column selection, powerful search and replace, multiple undo/redo, spell checker, customizable keyboard shortcuts, and more.


Edit Plus Screenshot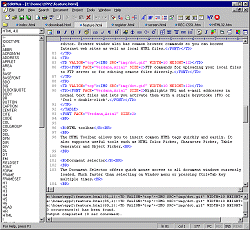 full size
Featured PHP Editor Review


NuSphere PhpED 5.5: The Staff of php-editors.com recently spent a few days working with NuSphere PhpED 5.5 (a popular PHP IDE) and 2.0 (a PHP Encoding Utility), read up on all the details.


Edit Plus Comments


Looks like good value for money and only one meg !!

Visit the Edit Plus Website.


Edit Plus Users Comments/Reviews