Main Menu

Forums

Programming Contest

Documentation

Sponsors

emacs

Version: 21

License(s): Freeware

Price: free

Platform(s): Windows, Unix, Linux, Mac, Other

More Reviews: See more reviews


emacs Description
To quote the Emacs Manual:



Emacs is the extensible, customizable, self-documenting real-time
display editor.



If this seems to be a bit of a mouthful, an easier explanation is Emacs is
a text editor and more. At its core is an interpreter for Emacs Lisp
(``elisp'', for short), a dialect of the Lisp
programming language with extensions to support text editing.

Some of the features of GNU Emacs include:





Content sensitive major modes for a wide variety of file types,
from plain text to source code to HTML files.


Complete online documentation, including a tutorial for new users.


Highly extensible through the Emacs Lisp language.


Support for many languages and their scripts, including all the
European ``Latin'' scripts, Russian, Greek, Japanese, Chinese, Korean,
Thai, Vietnamese, Lao, Ethiopian, and some Indian scripts. (Sorry,
Mayan hieroglyphs are not supported.)


A large number of extensions which add other functionality. The
GNU Emacs distribution includes many extensions; many others are available separately--even a web browser.

emacs Screenshot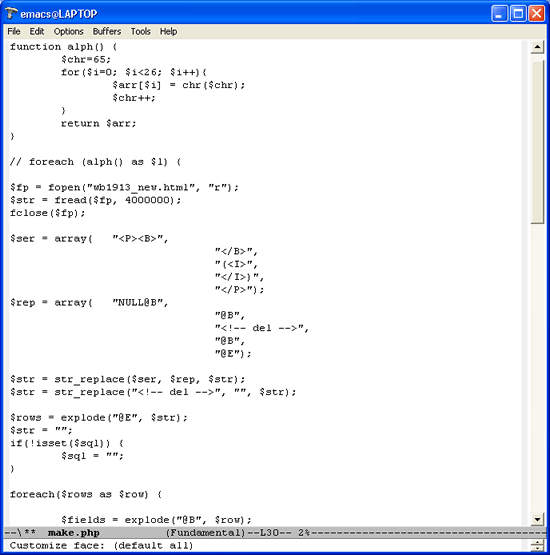 full size
Featured PHP Editor Review


NuSphere PhpED 5.5: The Staff of php-editors.com recently spent a few days working with NuSphere PhpED 5.5 (a popular PHP IDE) and 2.0 (a PHP Encoding Utility), read up on all the details.


emacs Comments


Added by popular demand. Usually we only list Editors/IDE which where specifically build with PHP in mind. But this one seems to have a large following and many people stand by it.

After installing in on a windows xp system I see it is very fast and jam packed with features. I can see why it has a large following.

Word of warning - when I installed the barebin version, it seemed to be missing some files. So I got the fullbin version and that sorted any problems.

Visit the emacs Website.


emacs Users Comments/Reviews