EngInSite Editor for PHP
Version: 2.2

License(s): Shareware, Commercial

Price: 69

Platform(s): Windows

More Reviews: See more reviews





| | |
| --- | --- |
| Rating: | |
EngInSite Editor for PHP Description
Luckasoft Software Releases EngInSite Editor for PHP 2.2

Getting most of PHP code with EngInSite Editor for PHP

EngInSite Editor for PHP may not be the cheapest, the most advanced or the most anything IDE for PHP, but it combines all the best from the others and still remains pretty darn simple and straightforward. So simple that people who don't know PHP use this tool to learn and make the very first steps in PHP coding.

EngInSite Editor for PHP comes with full support for PHP 4 and 5. Program's interface is almost a copycat of very familiar Microsoft Visual Studio or Delphi. Unlike most IDEs, EngInSite Editor for PHP wraps around already-existing projects and allows developers to use different PHP distributions. And debugging with this IDE for PHP is at least twice as fast and easy as with any other tool, especially Java-based IDEs.

There are advanced features that professional web developers need. Mighty code navigator, tag editor, profiler that identifies code's weak spots and bottlenecks, built-in FTP client and many other features pros use in their daily operations are all there. As far as flexibility goes - EngInSite Editor for PHP offers custom templates, own color schemes and adaptable interface.

Thanks to the Luckasoft developers, beginners can download a hassle-free preconfigured installation (several are available, including IDE+PHP 4, IDE+PHP 5 and IDE only) with debugger extensions, local webserver, docs, IDE and everything and start coding from scratch.


EngInSite Editor for PHP 2.2 is distributed electronically over the Internet; free demo version is available at http:// www.enginsite.com/ for evaluation.

The price of a single copy is 69 US Dollars

If you have any questions, would like to request editor's copy, want to inquire about special prices for volume buyers/software resellers, or have a business proposal, please contact Andrew Rukin at rookin@luckasoft.com

System Requirements:

Windows 98 or later
CPU: P-300
128 MB of RAM
55 MB of free disk space

Company Website: http://www.enginsite.com/

Product Page: http://www.enginsite.com/php-editor.htm

Screenshots: http://www.enginsite.com/php-editor.htm

Download: http://www.enginsite.com/Download.htm

Buy Link: http://www.enginsite.com/register.htm



EngInSite Editor for PHP Screenshot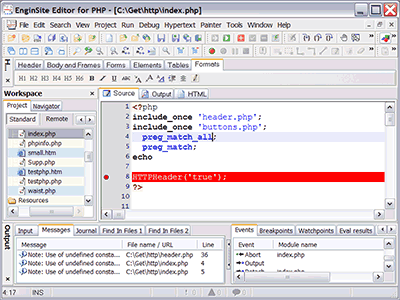 full size
Featured PHP Editor Review


NuSphere PhpED 5.5: The Staff of php-editors.com recently spent a few days working with NuSphere PhpED 5.5 (a popular PHP IDE) and 2.0 (a PHP Encoding Utility), read up on all the details.


EngInSite Editor for PHP Comments


Looks and sounds very good. We hope to test it fully very soon. Please give your honest rating and comments.

Visit the EngInSite Editor for PHP Website.


EngInSite Editor for PHP Users Comments/Reviews