Main Menu

Forums

Programming Contest

Documentation

Sponsors

HTML-Kit
Version: 292

License(s): Freeware, Commercial

Price: n/a

Platform(s): Windows

More Reviews: See more reviews





| | |
| --- | --- |
| Rating: | |
HTML-Kit Description
Heres what they have to say about it:
HTML-Kit is a full-featured editor and an integrated development environment designed to help HTML, XHTML, XML and script authors to edit, format, lookup help, validate, preview and publish web pages. Newcomers to web page development can benefit from letting it point out errors and provide suggestions on how to create standards compliant pages. Experts can save time spent on common tasks using the highly customizable and extensible editor while maintaining full control over multiple file types including HTML, XHTML, XML, CSS, XSL, JavaScript, VBScript, ASP, PHP, JSP, Perl, Python, Ruby, Java, VB, C/C++, C#, Delphi / Pascal, Lisp, SQL, and more.


HTML-Kit Screenshot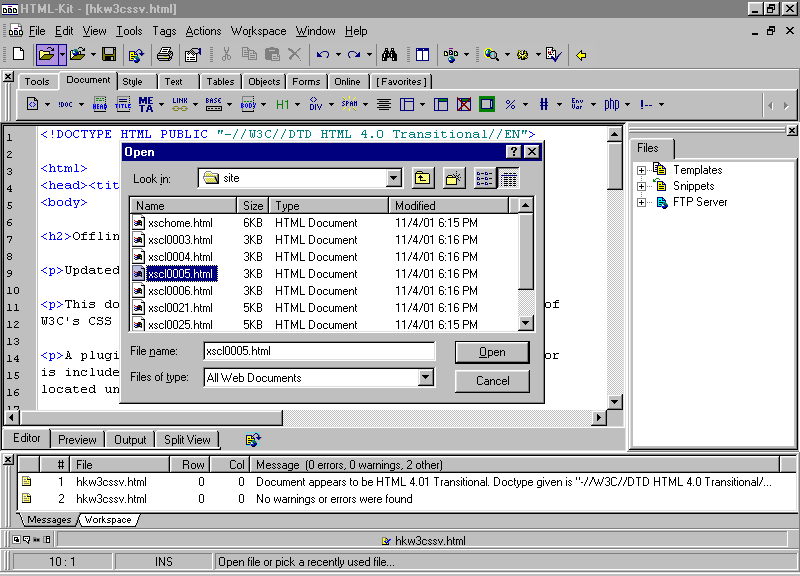 full size
Featured PHP Editor Review


NuSphere PhpED 5.5: The Staff of php-editors.com recently spent a few days working with NuSphere PhpED 5.5 (a popular PHP IDE) and 2.0 (a PHP Encoding Utility), read up on all the details.


HTML-Kit Comments


A very good editor for more than just PHP and HTML. Pretty good plugin creation tool available, so you can write your own plugins !!
Downsides: They try to get to many eggs into one basket.

Visit the HTML-Kit Website.


HTML-Kit Users Comments/Reviews