Maguma Studio Free
Version: 1.1.0

License(s): Freeware

Price: free

Platform(s): Windows

More Reviews: See more reviews





| | |
| --- | --- |
| Rating: | |
Maguma Studio Free Description
Maguma Studio is the source-level IDE, equipped with all the features known from other languages' development environments.

Through tight integration of the PHP interpreter and the PHP documentation, Maguma Studio gives developers a time-saving development tool. Features full integration of the PHP interpreter and the PHP documentation (through "function insight" and F1-key popup manual pages), integrated preview window, full syntax highlighting for HTML and PHP, AutoComplete for frequently used text constructs, tag buttons and all the standard editing functions like almost unlimited undo, copy and paste, searching, etc. Studio is smaller and faster loading than other PHP IDEs.

Maguma Enterprise Server specific features, as for example an interface to the Maguma Enterprise Server and to the version control system are not available in the light-version. The benefits of these features become especially clear when working on more complex enterprise projects, where tight integration of development and runtime environments is necessary.

System Requirements: Windows 98, 2000, ME or XP


Maguma Studio Free Screenshot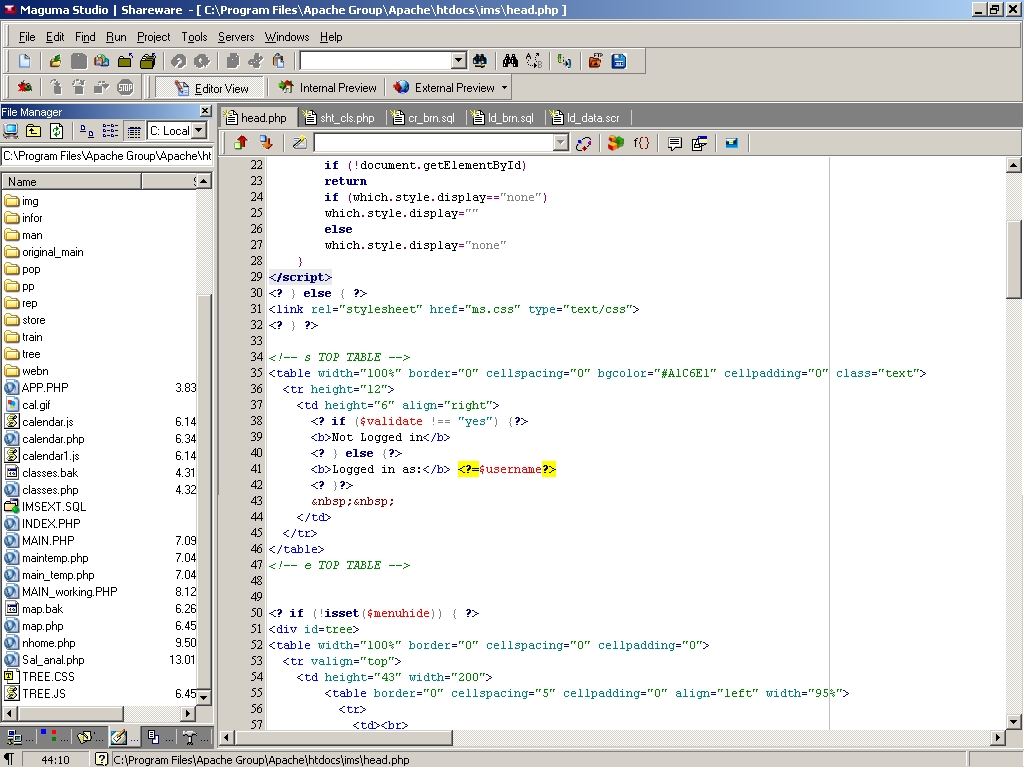 full size
Featured PHP Editor Review


NuSphere PhpED 5.5: The Staff of php-editors.com recently spent a few days working with NuSphere PhpED 5.5 (a popular PHP IDE) and 2.0 (a PHP Encoding Utility), read up on all the details.


Maguma Studio Free Comments


Quite a decent PHP IDE with some good features including ftp access and debugger. Works well and has 2 big brothers. Share and Enterprise versions are available for a small fee. These other versions have some improvements over the free version.

Overall a good functioning PHP IDE but, it could do with some interface enhancements.

Visit the Maguma Studio Free Website.


Maguma Studio Free Users Comments/Reviews