Maguma Workbench

Version: 2.6

License(s): Commercial

Price: 69 Euro

Platform(s): Windows, Linux, Mac

More Reviews: See more reviews


Maguma Workbench Description
Maguma's newest product The Maguma Workbench is a cross-platform source-level editor also known as an IDE (Integrated Development Enviroment). Maguma Workbench is now available for Windows and Linux and will be soon available for Mac OSX as well. This next-generation product is built around a plug-in architecture that provides several benefits over traditional program architecture. To learn more about its features visit the Workbench section.



Maguma Workbench Screenshot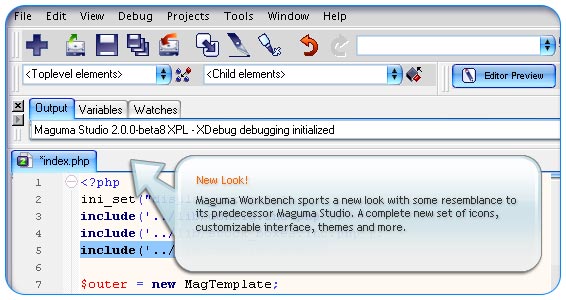 full size
Featured PHP Editor Review


NuSphere PhpED 5.5: The Staff of php-editors.com recently spent a few days working with NuSphere PhpED 5.5 (a popular PHP IDE) and 2.0 (a PHP Encoding Utility), read up on all the details.


Maguma Workbench Comments


Maguma are really going places with there new products.. I would love to hear your comments on this product!!



Visit the Maguma Workbench Website.


Maguma Workbench Users Comments/Reviews