PHP backend generator
Version: 0.9

License(s): Commercial

Price: 10$ for one CMS

Platform(s): Windows, Unix, Linux, Mac, Other

More Reviews: See more reviews





| | |
| --- | --- |
| Rating: | |
PHP backend generator Description
phpBackend is a CMS generation system, a PHP scripts generation tool for MySQL databases. It generates navigation, data entry, editing, deletion, has-a relationships, HTML editor within the forms, file manager, ordering script.

Developper can either submit to the engine their own SQL database definition, either use the online web editor (as demonstrated with this url) which generate both the SQL code and the php code.
The engine is based on table nomenclature. Relationship that are impossible to constraint in mysql, are simply indicated by tables name and field name.


PHP backend generator Screenshot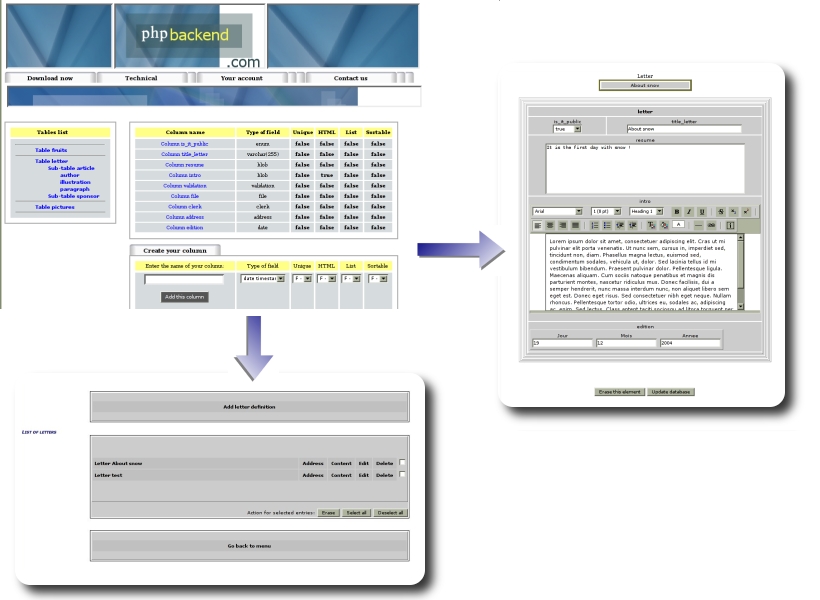 full size
Featured PHP Editor Review


NuSphere PhpED 5.5: The Staff of php-editors.com recently spent a few days working with NuSphere PhpED 5.5 (a popular PHP IDE) and 2.0 (a PHP Encoding Utility), read up on all the details.


PHP backend generator Comments


none

Visit the PHP backend generator Website.


PHP backend generator Users Comments/Reviews