PHPMaker
Version: 3.2

License(s): Shareware, Commercial

Price: 79.95

Platform(s): Windows

More Reviews: See more reviews





| | |
| --- | --- |
| Rating: | |
PHPMaker Description
PHPMaker is a powerful automation tool (for Windows) that can generate a full set of PHP quickly from MySQL Database. Using PHPMaker, you can instantly create Web sites that allow users to view, edit, search, add and delete records on the Web. PHPMaker is designed for high flexibility, numerous options enable you to generate PHP applications that best suits your needs. The generated codes are clean, straightforward and easy-to-customize. PHPMaker can save you tons of time and is suitable for both beginners and experienced develpers alike.


PHPMaker Screenshot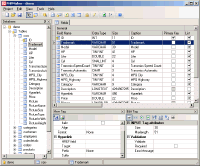 full size
Featured PHP Editor Review


NuSphere PhpED 5.5: The Staff of php-editors.com recently spent a few days working with NuSphere PhpED 5.5 (a popular PHP IDE) and 2.0 (a PHP Encoding Utility), read up on all the details.


PHPMaker Comments


Not strictly an Editor/IDE, more a generator. But still a development tool for PHP, more of a RAD tool for PHP.


Visit the PHPMaker Website.


PHPMaker Users Comments/Reviews