Top PHP Studio
Version: v1.19.6

License(s): Shareware, Commercial

Price: 30$

Platform(s): Windows

More Reviews: See more reviews





| | |
| --- | --- |
| Rating: | |
Top PHP Studio Description
Top PHP Studio is an Integrated Development Environment for PHP, designed to simplify the development process for PHP projects. Developers can easily edit and test PHP scripts with Top PHP Studio. Top PHP Studio offers internal HTTP server, internal browser, built-in FTP client, visual file comparison utility, configurable syntax highlighting, file and server explorer, function/parameter/tag completion, code snippets, advanced editing features, templates, syntax check, tabbed MDI interface and more...


Top PHP Studio Screenshot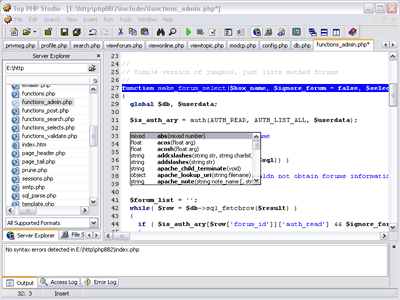 full size
Featured PHP Editor Review


NuSphere PhpED 5.5: The Staff of php-editors.com recently spent a few days working with NuSphere PhpED 5.5 (a popular PHP IDE) and 2.0 (a PHP Encoding Utility), read up on all the details.


Top PHP Studio Comments


Looks like a pretty decent PHP Editor with most of the features we all like!!
As normal, 3 stars until more reviews and ratings come in. I also hope to test it!!

Visit the Top PHP Studio Website.


Top PHP Studio Users Comments/Reviews