TruStudio
Version: 1.0.0.

License(s): Freeware

Price: non-commercial

Platform(s): Windows, Unix, Linux, Mac

More Reviews: See more reviews





| | |
| --- | --- |
| Rating: | |
TruStudio Description
TruStudio is an IDE (Integrated Development Environment) built on top of Eclipse Platform. TruStudio inherits comprehensive set of Eclipse editing, debugging and deployment tools and introduces state-of-the-art features for PHP, Python, and other open source technologies. It provides a comprehensive and extremely productive application development environment for creating and maintaining application systems built in script languages and includes many features not available in Eclipse. And because TruStudio is built on Eclipse, development teams can adapt and extend the development environment with best-of-breed plug-in tools from xored software, TruStudio Partners and the Eclipse community to match their needs and to maximize developer productivity.




TruStudio Screenshot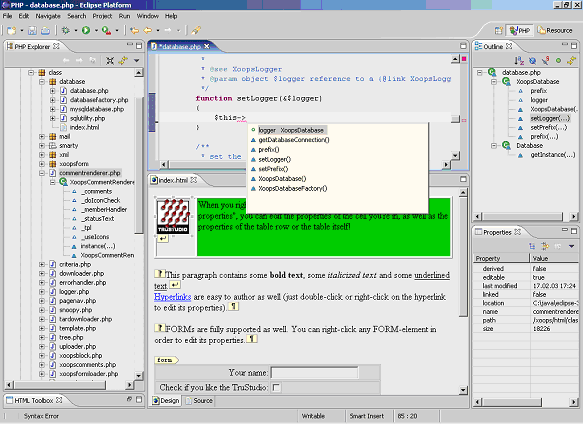 full size
Featured PHP Editor Review


NuSphere PhpED 5.5: The Staff of php-editors.com recently spent a few days working with NuSphere PhpED 5.5 (a popular PHP IDE) and 2.0 (a PHP Encoding Utility), read up on all the details.


TruStudio Comments


none

Visit the TruStudio Website.


TruStudio Users Comments/Reviews