Xored:: WebStudio
Version: 0.3.4

License(s): Freeware

Price: n/a

Platform(s): Windows, Unix, Linux, Other

More Reviews: See more reviews





| | |
| --- | --- |
| Rating: | |
Xored:: WebStudio Description
WebStudio is an IDE (Integrated Development Environment) built on top of Eclipse Platform. WebStudio inherits comprehensive set of Eclipse editing, debugging and deployment tools and introduces state-of-the-art features for PHP and other open source technologies.


Xored:: WebStudio Screenshot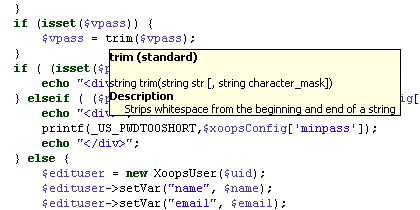 full size
Featured PHP Editor Review


NuSphere PhpED 5.5: The Staff of php-editors.com recently spent a few days working with NuSphere PhpED 5.5 (a popular PHP IDE) and 2.0 (a PHP Encoding Utility), read up on all the details.


Xored:: WebStudio Comments


This one looks mighty fine!!

Visit the Xored:: WebStudio Website.


Xored:: WebStudio Users Comments/Reviews